What are dermal fillers?
Dermal fillers are cosmetic injectables that insert gel-like substances into various parts of the face, chest, or hands. Each dermal filler is designed with a unique formulation that immediately adds facial volume, fills up wrinkles, or contours the lips, cheeks, or chin. Treatments with dermal fillers in Fairfield CT can replace the lost collagen, elastin, and proteins to rejuvenate your skin.
You must choose the ideal dermal filler for specific treatment areas and cosmetic goals. Gabrielle has a verifiably flawless track record when it comes to delivering fillers. She curates each treatment plan according to your individual needs to ensure natural looking results that leave you flawless.
What Can Dermal Fillers Treat?
Deep wrinkles
Fine lines
Under-eye hollows
Nasolabial folds
Forehead lines
Crow's feet
Loss of facial volume
Cheek volume
Chin contours
Lip shape and size
Hands
Décolletage wrinkles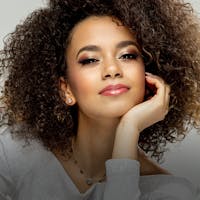 What are the benefits of dermal fillers?
Dermal fillers come with many unique advantages. Firstly, they come with very little downtime, so clients can quickly get back to the flow of their day, returning to work or school immediately. Secondly, dermal fillers are typically painless and come with very few side effects. Many fillers are made with naturally-derived hyaluronic acid and do not require allergy testing. Lastly, dermal fillers are versatile. They can combat age-related volume loss, correct lines, wrinkles, and folds, and augment depleted lip contours. Treatment is always personalized so that your results appear tasteful and sophisticated, never obvious or overdone.
Am I a candidate for cosmetic injections?
For many patients, there comes a point at which topical creams, lotions, and serums are no longer sufficient methods of fighting the signs of aging. These clients may wish to improve their appearances, but they are unwilling to undergo an invasive surgery that will require anesthesia risks, scarring, and a lengthy recovery period. In these cases, injections with dermal fillers are the perfect middle ground solution to help revitalize the countenance and boost self-confidence.
As with any cosmetic procedure, patients should be physically and emotionally healthy, non-smoking, and realistic in their expectations.
Your Dermal Filler Options
Your Consultation with Gabrielle Pino PA-C
Your journey with dermal fillers in Westport starts with a private consultation with Gabrielle Pino. As you can see, you have several filler options to choose from, each catering to a different treatment area with different results. She will carefully assess your skin quality and discuss your cosmetic goals to recommend the ideal fillers for your specific needs. She has been recognized as the "Most Loved Injector" by RealSelf for her dedication to flawless, personalized, and natural results. Please schedule a private consultation with Gabrielle to discover your options.